NEW PRODUCT!!

BIG BITE CHUCK SPUR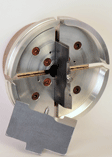 (Available Dec. 20, 2009)

Oneway is pleased to introduce the Oneway Big Bite Chuck Spur. At 3-3/4 inch diameter it easily drives pieces up to 24 inches in diameter but is safely contained inside the body diameter of even our smallest chuck. It takes advantage of the holding power of the chuck making it very economical.
NEW PRODUCT!! WOLVERINE VARI-GRIND 2
(patent Pending)

ONEWAY is pleased to introduce the new Vari-Grind 2. The new Vari-Grind 2 keeps all the flexibility of the Original Vari-Grind but adds safety and increased the ease of use
Click here to find out more about this fabulous jig!
GRIND 'N HONE Jig!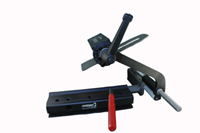 Lock into the perfect grind with our newly redesigned GRIND 'N HONE Jig!! This jig is available in three configurations and has had several major improvements!
Click here to find out more about this jig that will be an excellent additon to your workshop!
Pen Turning Point for the Oneway Live Centre!
We recently finished production of a new point for the Oneway Live Centre (rotating cup centre). It was specifically designed for pen turners as they needed something smaller and of stronger material than the full point cone. Click here to find out more.
Gary Sanders Light Stand is now shipping!
The light stand that Gary Sanders designed and built, is now being produced by Oneway Manufacturing. Find out more about this great accessory to your lathe, or other work space in your work shop.
INTRODUCING A REVOLUTIONARY NEW LATHE:
The 1236SD (sit down) Lathe
Swing: 12"
Between Centers: 36"
Motor: 1 HP (110V or 220V)
Spindle Height: Adjustable
Spindle Threads: 1" - 8
Headstock MT: #2
Tailstock MT: #2
Click here to find out more.
NEW ITEMS & UPDATED INFORMATION
Versa-Mount™ Chuck Adaptors
*NEW*
The Versa-Mount™ Chuck Adaptors are a natural extension to the Versa-Mount™ Universal Mounting System. They are designed to fit in your Oneway, Talon, or Stronghold chuck and allow you to easily switch between any lathe utilizing the Versa-Mount™ Coupling.
The real advantage of this system is realized in a classroom situation where you may have several lathes which have differing spindle threads. Switching from lathe to lathe is quick and easy!
These adaptors are used in place of the Taper-lock Adaptor.
Tailstock Swinger™
The latest addition to our large lathe accessories is the Tailstock Swinger™. This attachment allows you to swing the tailstock out of the way quickly and with very little effort.
Once you have it installed on your lathe, you will wonder how you ever lived without it!
Click here to find out more on this new and exciting accessory for the 2436, 2416, 2036, & 2016 lathes.
VERSA-MOUNT™ UNIVERSAL MOUNTING SYSTEM
The Versa-Mount™ universal mounting system is designed to make exchanging lathe accessories simple and easy.
The key to the system is the Versa-Mount™ Coupling (pictured). This is screwed on to the spindle thread on your lathe and remains permanently mounted. Other accessories like chucks and faceplates are then mounted to the Versa-Mount™ Coupling using a twist & lock type configuration.
We currently have Faceplate Rings (see below) available to use with this system, and Chuck adaptors will be available very soon for the Oneway, Talon and Stronghold Chucks.
More on the Versa-Mount™ and the Faceplate Rings can be found here.
Versa-Mount Faceplate Rings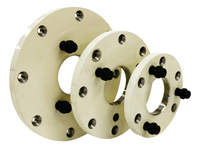 These faceplate rings are designed to be used with the new Versa-Mount Coupling (described above). The FACEPLATE RINGS allow you to unmount and re-mount large blanks of wood with ease. You no longer have to screw the faceplate onto the spindle which can be extremely arduous depending on the size and weight of the blank.
Simply mount the Faceplate Ring to the blank as you would a standard faceplate, then lift it onto the bed and into the mounting holes of the Versa-Mount™ Coupling. Tighten down the three Faceplate Ring screws and you're ready to go! Simple, quick and easy.
Click here for more information.
Thread-Lok™ Ferrules

This ingenious new product will allow you to quickly and easily create your own turning tools. Start creating your own tools today!
Click here to find out more.
TOWER JAWS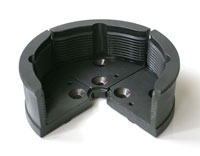 We now have a set of deep jaws available for the STRONGHOLD Chuck.
These jaws have roughly the same capacities as the already popular #3 Profiled Jaws. However, the added depth make them more versatile and suitable for a wider variety of turning projects.
Click here to find out more...
Multi-Media Update
The multi-media part of this website has been updated to provide faster downloads and viewing of the videos due to better compression / smaller file sizes etc.
These informative video are available FREE of charge. We currently have "HOW TO" videos for the Easy-Core Coring System and the Wolverine Grinding Jig & Accessories. We plan to add more videos as time permits.
Click here to view the Wolverine Grinding Jig "HOW TO" video. Those you on dial-up modems should click here to view the video.
Oneway Gallery: Updated December 1, 2009
New images have been added. Check it out by clicking here.

If you would like your turnings displayed for all to see, feel free to email them to me and I'll see they get added.
Frequently Asked Questions
Over time we hear the same questions time and time again so we thought we should have an area on our website dedicated to listing these questions and any relevant information regarding the topic. This is an ongoing entity, so make sure you check back from time to time as the list will be updated on a fairly regular basis.
Recently Added: Why buy a Oneway manufactured chuck versus our competitors?
Visit the FAQ page by clicking here.
PRODUCT REVIEWS
We have added a page where you can find links to online reviews of our products. As new reviews come to our attention, we will endeavor to add them promptly. If you know of an online review of one of our products, please email us the link at review@oneway.ca.
Some reviews we recently added include: