Sharpening the Cutter
Due to the small size and the cutter geometry, it can be quite difficult to sharpen. The new CUTTER SHARPENING JIG makes this task a quick and easy process meaning less time at the grinder and more time coring.

Successful coring is very dependant on a sharp cutter. If the cutter is dull, you will need to use excessive pressure on the handle causing the knife to be forced off-line in the cut. As the cutter goes deeper, the groove will get more off-line and the cutter will widen the groove when you retract and re-insert the knife. If the groove gets too wide, the knife will fall of the support causing a jam and possible tool damage or breakage. Keeping the cutter sharp is the easiest way to do this.
How often should I sharpen my Cutter?
You should consider sharpening the 16" knife cutter after every core, 13" knife cutter every other core, and the 11" & 9" cutters after five or six cores. You should also consider rotating the cutters between knifes to extend the life of the cutters.
Since the keeping the cutter sharp is the key to this system operating efficiently, we have created a quick and easy way to sharpen them using the CUTTER SHARPENING JIG.
Cutter Sharpening Jig
The cutter sharpening jig was created to enable you to get the most from your cutters and therefore your Easy-Core Coring System™. We recognize that it isn't an easy task to sharpen the cutter and this could lead to the cutter not being sharpened as often as it should.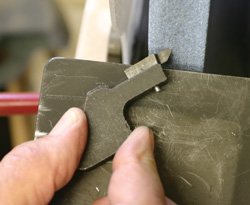 The Jig works by removing the cutter from the knife and fastening it to the jig using the screw provided with the jig. It'd then a matter of going to the grinder with a platform (like the one that comes with the Wolverine Grinding Jig), setting the correct angle using the supplied template, and then sharpening the cutter as described in the instructions.
It's quick and easy and can be performed in one setup.
You no longer have to worry about maintaining the correct cutter geometry as the Jig will do this for you.
Part No. 3677

€22.51
Important Note: Your grinding wheel should be properly dressed (see the Wolverine Dressing Jig) and balanced (see the Wolverine Precision Balancing System) in order to get the cutter as sharp as possible.