10" & 12" Easy-Core Coring System
The Easy-Core Coring System has been well received among the woodturning community with many praises coming from professional bowl turners.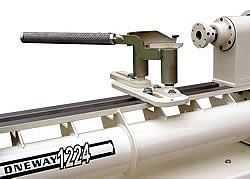 Coring doesn't have to be a scary, unnerving experience anymore. Even novice turners with a bit of instruction (instructional video is supplied with the system), can easily remove several bowls from one blank.
Get the most from your expensive burl or bowl blank, while not feeling exhausted at the end of the process. You will have lots of energy left to core more bowls or turn that piece you've been waiting to get your hands on for the last month.
How does it work?
The mini coring systems are diferent from it's larger counterparts in that there is only one knife available for the mini systems (included with the system). Different sized cores are obtained by moving the base.
What Do i need?
The Mini Easy-Core Coring System is comprised of two main parts:
The Base
The Base needed is determined by the swing of the lathe. For the Mini Coring System we offer two different sizes - 10" (for the 1018 or similar) & the 12" (for the 1224 or similar).
A Clamp Block (packaged separately) is included with the Coring System. This will vary from lathe to lathe. To determine the size of the Clamp Block needed, measure the distance between the bedways. This GAP determines the Clamp Block required.
Important: Please specify the bed gap when ordering this product.
The Knife
The Knife determines what size bowl blanks can be cored. There is only one knife available for each of the Mini systems. Each knife is a fixed size, and different sized cores are achieved by moving the base.
Cutters are replaceable and easily sharpened on a bench grinder platform. The cutters are made from HSS CPM M4 - the same steel used to make our Mastercut Turning Tools - providing excellent cutter life.