Live Center
Two good quality bearings mounted in tandem and greased for life will give excellent play-free performance and minimum vibration when turning.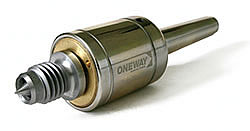 ONEWAY Live Centers are designed specifically for the wood turner. They have a threaded, rotating, cup center, which is the only component that rotates. This feature contributes to a safer working environment.
Our Live Centers include the necessary accessories to suit most applications.
The unique, threaded cup center provides the following advantages to the wood turner:
First, the full point and reversible bull nose cones can be easily attached and removed.
Second, if turning outside the capacity of the provided cone, a user specific support can be made by drilling a hole in a blank, attaching it to the live center and turning it to suit your requirements.
Construction
The body is precision machined from premium alloy steel, then heat treated, ground, and electro-less nickel plated. These processes give strength, accuracy and rust protection. The core is also made from high strength steel, then heat treated and ground.
Pen Turning Point (NEW)
We've had several pen turners approach us about an accessory for the Live Center which would be better suited to turning pens. It needed to be small, made from steel, and attach to the Live Center.
You asked, we listened.
Oneway have created a small, easy to install Live Center point called the Pen Turning Point.
It's made from a solid piece of steel so you no longer have to be worried about wearing away the aluminum full point cone you have used in the past.
It's tapered shaft fits straight into the Live Center. It can be easily removed using the knock-out rod supplied with the Live Center.
Order No. 3673
Live Center Adaptor's - What are they? How are they useful?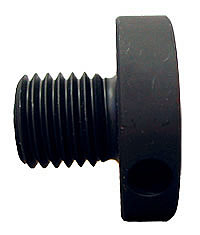 ONEWAY have developed a quick and easy way to precisely center a bowl in order to hollow it out. This is achieved using a Live Center Adaptor.
How do I precisely center a bowl?
These adaptors are threaded to screw onto your ONEWAY Live Center, effectively changing the ¾ - 10 thread (of the Live Center) to the same thread as your spindle. With one of these adaptors, a very precise centering method can be used:
Attach a bowl blank to a faceplate.
Turn the outside of the bowl, including a foot (or tennon) to chuck it on.
Using the Live Center adaptor, attach a chuck or faceplate to the Live Center.
Move the tailstock (with the Live Center / chuck assembly attached) up to the bowl, and grab the foot or tennon on the bowl while it is still attached to the faceplate and lathe.
Remove the faceplate, bowl blank and chuck from the lathe.
Remove the faceplate from the bowl blank.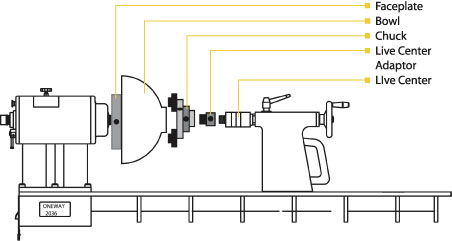 You can now screw the chuck onto the headstock, and your bowl will be very precisely centered and ready to be hollowed out or cored.