Metal Spinning - A Lost Art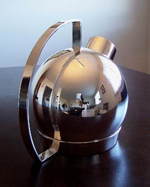 Metal spinning is an age old art which has been some-what forgotten... until recently. With the growth of the woodturning industry, new life is being infused into metal spinning.
What is metal spinning?
Simplistically, the process of metal spinning is taking a metal disc and forming it over a predetermined shape on the lathe.
For a better description, click here to be directed to the Wikipedia definition of Metal Spinning.
Not many people realize their Oneway lathe is perfect for spinning metal. The quality and precision built into every lathe is exactly what you need in order to spin metal!
Oneway Manufacturing has teamed up with Terry Tynan (an excellent metal spinner from England) to raise awareness of this beautiful craft. Terry has created a couple of excellent DVD's which can be purchased from his website (http://www.metalspinningworkshop.com/).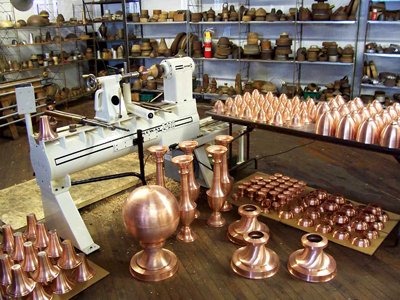 VIDEO: Click here to view a snippet of his last DVD.
He is currently working on a new DVD using a Oneway 2436 which will be available soon. He is also in the process of writing articles for a couple of woodturning magazines. We will provide what magazine and a what issue the articles are in soon.
Metal Spinning Toolrest
Oneway has worked alongside professional metal spinner Terry Tynan to create the best spinning toolrest on the market today. Solidly constructed, this toolrest has 13 holes to ensure plenty of lateral options for the pin and less movement of the toolrest base.
The toolrest package includes the toolrest, metal pin, and a clamp plate (not shown). The clamp plate prevents the banjo from creeping on the lathe bed when spinning.
Dimensions:
Blade: 15" wide x 2" deep x 1.5" heigh
Post Height: varies depending on the swing of your lathe.