Sanders Light Stand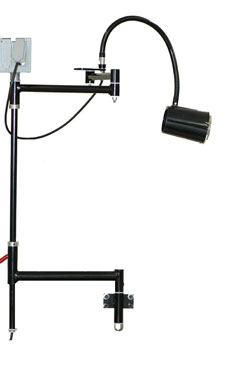 Originally designed, built and marketed by Mr. Gary Sanders from Texas, this accessory stand is now available from Oneway Manufacturing.
It is equipped with two duplex 110v boxes (four outlets) and a quality gooseneck light made by Moffat in the USA.
Another light can be added to double the amount of light making it even easier to see. This extra light can be purchased separately and added at any time.
It is solidly constructed using steel tubing with nylon bushings. The powder paint provides a tough resitant coating, and it looks very smart with its glossy black finish.
This product will be a welcome and much appreciated addition to carving stations, workbenches, lathes or any other equipment where light and receptacles are needed.