Using modern design principles ONEWAY considered all aspects of power and ergonomic requirements for today's turning environments when designing our lathes.

Our lathe is made to meet (and exceed) all the features woodturners always hoped for. With a bed design that reaches almost perfect torsional rigidity, a radical new toolrest base design, four bearing headstock and a host of other features, our lathes are sure to be on the woodturner's most wanted list.

All our lathes are built with the same sturdy construction, only the capacities vary. The same precision spindle, the same bed construction, the same design of headstock, tailstock, and toolrest base are standard on all models of lathes which ONEWAY makes.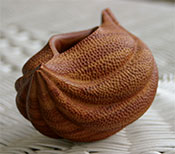 Ipu Pod
by Mike Lee