Accessories for the 1640 Lathe
There are several accessories for the 1640 Lathe to enable you to customise it to your personal requirements.
Outboard Attachments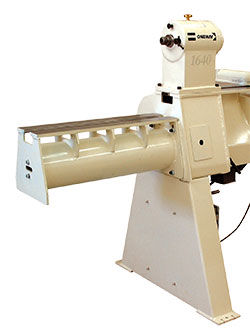 Most wood turners never use the outboard of their lathe because they would have to buy LH threaded attachments and learn to turn opposite to what they are accustomed to on the inboard side; and lets face it, most of us have enough problems learning to turn one way (no pun intended). ONEWAY solved this problem by threading the outboard spindle RH and providing a motor with reversing capabilities. Outboard attachments for ONEWAY Lathes make these lathes true bowl turning lathes, not light duty attachments.
24" Bed Extension & Outboard Attachment
The 24" bed extension may be bolted onto either end of the 1640 Lathes. Attached to the outboard end it creates maximum turning length of 24", but more importantly creates a turning capacity of 24" (i.e. 24" swing).
Used on the inboard end, it extends your turning length between centers to a whopping 64 inches!
Part No. H0043

€323,14
Special Toolrest Included with the Extension Bed
A special Toolrest is supplied with the extension to allow you to use your existing banjo on the outboard side. This extended length post toolrest can be used with either the regular 1640 banjo or with the 24" Banjo (purchased separately) - this toolrest goes deeper into the socket on the 24" banjo but causes no interference issues.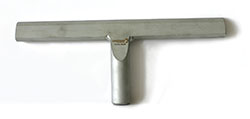 Fig. 1 Special Toolrest supplied with the 24" Extension
What about shape and design?
This Toolrest has a much different shape than the regular toolrest supplied with the lathe.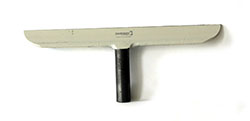 Fig 2. 1640 Toolrest
The regular toolrest (Fig 2.) is designed so that you can use a tied grip (index finger locked under the toolrest for control). This style of toolrest is a general purpose shape, good for everything but not necessarily great at anything.
The outboard extended length toolrest (Fig 1.) is designed so that it will not work very well with a tied grip which makes it better for certain aspects of bowl turning.
We feel that the two toolrests complement each other.
RECOMMENDATION
We recommend purchasing a 2436 Banjo when using this extension bed on the outboard side as the vibration will be transfered to the lathe in a more desirable fashion. The 24 inch banjo is somewhat stronger and stiffer which will lead to fewer vibration induced catches and less possibility of bending the toolrest.
This makes using a 24" Banjo a sturdier & safer option when using the 24" extension bed on the outboard side of your 1640.
24" Banjo (Toolrest Base)
The 2436 Banjo can be purchased for use on the 24" Extension & Outboard Attachment (mentioned above). This is a preferred method of turning on the outboard side due to increased safety and decreased vibration.
The 1640 toolrest supplied with the lathe can be used with this base. Simply release it from the 1640 Banjo, insert it into the 2436 Banjo, and tighten the clamp handle.
24" Banjo - Part No. 2683A

€289,29
NOTE: A toolrest in NOT included with this accessory.
Extra Banjo (Toolrest Base)
There are certain situations when it is very desirable to have an extra banjo at your disposal. A couple of examples are:
outboard turning - no need to move it from the inboard side
support for extremely long toolrests which allow you to make one continuous cut
The construction is exactly the same as the banjo that comes with the lathe.
Upgrade Your Non-Oneway Lathe Toolrest Base
These toolrest bases can be purchased to upgrade your non-oneway lathe's toolrest base. If you are generally happy with your lathe but find your current toolrest base moving while turning or not solidly clamping to the bed, this could be a good option for you.
Rather than buy a whole new lathe, just upgrade the toolrest base! Click here for more information.
16" Banjo - Part No. H0082

€244,66
Note: A toolrest is NOT included with this accessory.
Tailstock Riser Block
The Tailstock Riser Block is an add-on to the 24" Bed Extension (H0043). This allows the tailstock to be used on the outboard side of the lathe. This in turn will increase safety, and allow for heavier, & a wider variety of cuts.
Everything you need to install and align this accessory is included with the Riser Block package.
Part No. H0116

€222,57
Click here to download the 1640 Riser Block installation instructions (PDF Format, 105kb)
Breaking Resistor
A breaking resistor helps the lathe stop big pieces quickly. This is recommended for production turners, and people who start and stop the lathe frequently.
IMPORTANT: Make sure you give this option some serious consideration before placing you order as it is factory installed. It can be added later but at considerable expense as the drive (inverter) requires replacing.
More detailed information on this option can be found in our Frequently Asked Questions section, or by clicking here.
Breaking Resistor - Part No. 3046

€174,35
Handwheel Hub
Turn yourself a nice custom handwheel and attach it to this hub with screws. The hub is constructed from a solid piece of aluminum and is 3" in diameter.
Part No. 2802

€27,18
Wheel Set
If you have any requirement to move the 1640 on a regular basis, the Wheel Set is a necessity. The wheels are attached and removed quickly and easily.
| | |
| --- | --- |
| | |
| Steering Wheel | Fixed Wheels |
Comprised of three 5" x 1¼" hard plastic castor wheels (one steering wheel and two fixed wheels) this wheel set will prove invaluable.
Part No. H0095

€106,70
M33 x 3.5 Spindle Extender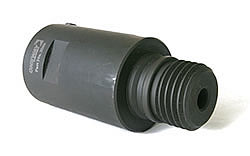 Sometimes you need to get in behind the piece being turned. It is in this situation the spindle extender is extremely useful. It effectively extends the spindle 3" further out from the headstock.
These are only available for our M33 x 3.5 threaded spindles.
Part No. 3069

€78,48
Remote Start / Stop
A remote START / STOP control is an available accessory. This option is especially convenient when turning outboard or on a large bed extension. It is wired into the control box and can be attached anywhere on the lathe with its magnetized control box. It is an option on all Oneway's lathes.
Part No. 2787

€89,20
Spindle Adaptor
ONEWAY offers special adaptors to convert your M33x3.5 thread to fit your existing tooling if required. These adaptors are available for most standard machines.
Spindle Adaptor

€78,48 each
Currently available are:
| | |
| --- | --- |
| Adapted To | Part Number |
| ¾" - 16 tpi RH | 2596 |
| 1 - 8 tpi RH | 2567 |
| 1 - 12 tpi RH | 2598 |
| 1-1/8 - 7 tpi RH | 2594 |
| 1-1/8 - 8 tpi RH | 2595 |
| 1-1/8 - 8 tpi LH | 2956 |
| 1-1/4 - 8 tpi RH | 2566 |
| 1-1/2 - 6 tpi RH | 2565 |
| 1-1/2 - 8 tpi RH | 2564 |
| M30 x 3.5 RH | 2575 |



RFI Filter
An RFI Filter installed in the lathe will help minimize the AM (and some television antennae reception) interference. It can be factory installed or customer installed as an after-market item.
Download the Installation Instructions for the RFI Filter from our Instructions Page or click here. The instructions are in PDF Format and require Adobe Acrobat.
Part No. 2748

€46,42