Toolrests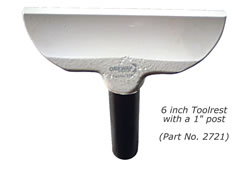 The toolrest is designed to work with the banjo (toolrest base) so that you can get very close to the front and back side of turnings.
Our 6" & 14" toolrests for our 2436 (and other large lathes) are made from ductile iron, which is stronger than cast iron and will last longer. These toolrests are powder painted and are suitable for both underhand and overhand grips.
The toolrest designed for the 1640 lathe is constructed from a steel post and steel bar welded together. The post is 1" dia. and will fit on any lathe that meets the same specifications (i.e. 16" swing & 1" post in the toolrest base).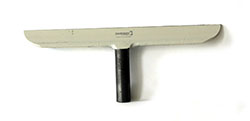 Our 1224 toolrests are constructed from stainless steel. These toolrests will last a lifetime as they will not rust or corrode. These toolrests also have a 1" post and are available in both 11" and 6" lengths.
The toolrest is clamped in the toolrest base with a captured non-marking block. As a result a very tight fitting hole can be bored. This improves the toolrest clamp position. The clamp screw handle may be adjusted at 45° rotations to assure minimum interference when turning.
Large Lathes
(1" post)

1640
(1" post)

1224
(1" post)

1018
(¾" post)

14" (ductile)

2367

H0089

-

-

6" (ductile)

2721

H0103

-

-

11" (stainless)

-

-

M0206

-

8" (ductile)

-

-

-

M0030

6" (stainless)

-

-

M0239

-
Curved Toolrests
To make a nice curve on a bowl, the curve needs to be cut in one shot. On medium to large sized bowls, you need a curved toolrest to do this.
The Oneway curved toolrests are gently curved to help bowl turning from green turning (wet) to finish turning (dry). Manufactured from stainless steel, they will not rust.
Our curved toolrests come in two configurations:
Exterior Toolrest
This toolrest is used primarily to finish turn the outside of a bowl. The uniform curve on this Toolrest assists in making the final cut perfect.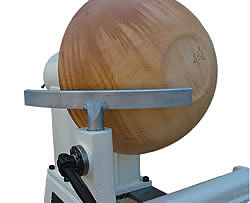 Multi-Purpose Toolrest
This Toolrest can be used for many different applications due to the variation in the curve. Turning the inside of a bowl is the perfect application for this Toolrest.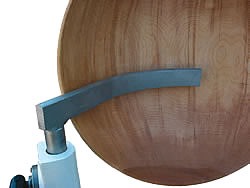 Four curved toolrests are available as follows:
1018
(¾" Post)

1224
(1" Post)

Large + 1640 Lathes
( 1" post)

1½" Post
(big outboard)

General-Purpose

3035

3301

3037

3039

Exterior

3036

3302

3038

3040