1236SD
SIT DOWN Lathe
This REVOLUTIONARY DESIGN will make you rethink your approach to turning. No longer do you HAVE TO STAND at your lathe. The 1236SD allows you to STAND OR SIT at the lathe.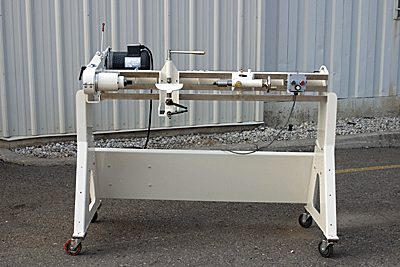 Is the traditional standing position not possible for you anymore due to illness or accident?
Are you tired of being tired after turning at the lathe?
Do you get sore feet, sore knees, sore legs, an aching back while turning?
Wouldn't you prefer to SIT DOWN while sanding, finishing, painting, or buffing?
IF YOU ANSWERED YES TO ANY OF THESE QUESTIONS, THEN THE 1236SD (SIT DOWN) LATHE COULD BE THE SOLUTION!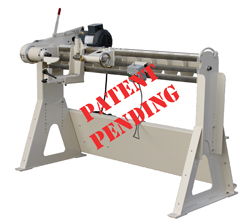 The 1224 is the next level above the 1018 due to it's larger capacity in both swing and between centers, and does away with the jack shaft making it a nicer, more efficient design. As with the 1018, the 1224 was designed so that anything that fits in its capacity could be turned without compromise.
This mini lathe has been built with the same sturdy construction as our full size lathes. A high quality, precision spindle, offset tubular bed construction, precision machined bedways, as well as ONEWAY's patented banjo locking mechanism are all standard features on this machine. If you can fit a blank on this little lathe, its performance will not disappoint you.
This lathe has been designed for turner's with limited space, or who are devoted to turning smaller to medium sized pieces. It was designed in such a way that nothing was sacrificed. It's bed was fashioned after it's larger counterpart, which has already proven itself throughout the woodturning community. By slightly offsetting the bed, chips fall through cleanly and while not sacrificing torsional rigidity. It is made to dwarf current lathes in the market of the same size.
The Lathes Specifications are:
Standard distance between centers is 24" ( 48" with Mini Bed Extension)
Overall length of machine - 62 "
Swing over bed - 12"
Swing over banjo - 9"
Weight: approximately 300 lbs (fully assembled)
The Bed
Bedways and ribs are welded to a 4½ inch diameter * ¼inch wall tube. The assembly is stress relieved and precision machined. Bedways are offset so chips and debris fall straight thru without sacrificing rigidity. Almost perfect torsional rigidity is achieved - many times more than twin tube or cast iron bed designs.
The Headstock & Spindle
A quick overview of the headstock and spindle features are:
24 position indexing
Spindle lock
Spindle Thread: 1"-8 tpi (inboard) & 3/4"-16 tpi (outboard)
Safety Groove in spindle to prevent accessories from unscrewing from the spindle
No. 2 Morse Taper (inboard side)
7/16" thru hole (supports necessary requirements for vacuum chucking)
Our spindles are hardened, machined, and contain four bearings. At the front are two deep groove ball bearings custom fitted with ground spacers, and locked to the shaft with a lock nut in the housing. This minimizes radial and axial play of the spindle. The rear bearings float axially to allow for heat expansion. The bearings are no maintenance greased for life.
The spindle is drilled thru 7/16" with No. 2 Morse Taper at the inboard end. It is made from high alloy steel, hardened and ground to precision tolerance of +- 0.003 inches.
A special self supporting wrench is used to remove accessories from the spindle such as faceplates and chucks.
The spindle nose, which holds the front bearings, protrudes approximately 1½ inches in front of the headstock, allowing easy toll maneuvering when working on the backside of projects.
The spindle is 1" - 8 threads per inch with a safety groove machined for a lock screw. This design contributes to the safety of this machine, as it reduces the possibility of chucks or faceplates accidentally unscrewing from the spindle. It is also safer when sanding or during braking.
The Drive (AC Electronic Variable speed with Dynamic Braking)
The drive package is fully electronic with speed from 0 - 4500 RPM in both forward and reverse. Lathes are available in two configurations:
1 HP - requiring 110 Volts. This is the standard configuration for these lathes. A 9 foot power cord is used with a typical 110V plug.
1 Hp - requiring 220 Volt. The lathe can be configured to run on 220 Volts at no extra charge. A 9 foot power cord is used with a 15 Amp (220V) plug.
Speed ranges are 0 - 1200 / 0 - 4500 rpm.
Changing the range is easy and can be completed within a minute.
The motor is mounted directly below the headstock.
Motor pulleys are 2 step, and use 6 groove poly V belts.
The controller comes programmed ready for use with built-in ramp up / ramp down, and dynamic breaking. This is a high quality drive, with single phase AC in / 3 phase out.
The Tailstock
The tailstock has an 1-1/8" diameter quill with 3" travel.
The lead screw is a 3/4" dia. - 6 pitch Acme thread and the barrel has a 3" bearing length.
The 4" handwheel and the high lead on this screw allows rapid feeds for drilling.
Easily removed or installed on the bed.
Precision design and a #2 Morse Taper allows the use of stronger live centers and larger drills.
The super rigid tailstock clamp is designed so that no flexing will occur under clamp pressure. This will ensure that the clamp will hold firmly while requiring no adjustment for the life of the lathe, and will retain the ease of movement of the tailstock along the bed.
The Banjo / Toolrest Base
Uses ONEWAY's own proven design that ensures even , powerful clamping anywhere on the bed (PATENT No. 6000447). The sliding cam is supported by a cam support block which rests on a ledge machined in the toolrest base.
Banjo/ Toolrest Base Design
The patented ONEWAY toolrest base is designed to solve problems associated with traditional camlock toolrest bases. This sliding cam clamping mechanism ensures tight clamping and smooth operation in every position on the lathe bed.
What makes our Banjo's clamping mechanism better than conventional methods?
Conventional long cam shafts suffer from cam shaft deflection. This causes non-uniform clamping over the range of the toolrest base. Cam shaft deflection causes a related problem - the clamp handle tightens in a different position when the toolrest base is moved from front to back.
This conventional clamping mechanism consists of a cam shaft that runs the entire length of the toolrest base. Deflection is unavoidable using this unsupported system. Deflection occurs because the cam shaft is so long, it bends when clamping pressure is applied when positioned in the middle.
ONEWAY solved this deflection problem (commonly found on competitor lathes) by replacing the regular long shaft cam with a sliding cam assembly.
What is a sliding cam assembly?
This assembly consists of a rotating square shaft, a short sliding cam and a support block for the sliding cam. The square shaft rotates the sliding cam. The cam is supported on a cam support block which in turn is supported on a ledge machined in the tool rest base. The block moves with the sliding cam and supports the shaft. Deflection of the cam shaft is eliminated and there is no longer a clamping difference anywhere on the lathe bed. When unclamped the handle is always at the 12 o'clock position and clamping may be adjusted to be repeatable anywhere between 10 & 6 o'clock with RH and LH clamping always at the same angle.
Can I purchase a Banjo for my flatbed lathe?
The toolrest base was originally designed for ONEWAY Lathes, but because it is a significant improvement over current designs, we are offering the toolrest base and toolrest as upgrades to replace existing banjo/toolrests for flatbed lathes.
If you have a flatbed lathe, and you find your toolrest does not clamp sufficiently or slide smoothly, you can solve the problem with ONEWAY's new toolrest base.
AAW Symposium
The revolutionary ONEWAY 1236SD (Sit Down) lathe was very well received at the AAW Symposium in Portland, Oregon. Several people thought the idea was great. However it wasn't until they sat down they realized just how good a concept it is. Even Jimmy Clewes had a go!