No-Flex Faceplates
Solid cast iron construction with superior strength and stiffness.
Our faceplates are manufactured from either stainless steel, carbon steel, or cast iron. All our faceplates are extremely strong and durable. They are available in the most popular thread sizes (refer to Table 1 & Table 2 for available threads). Our faceplates are available in five different sizes:
3 inch Faceplates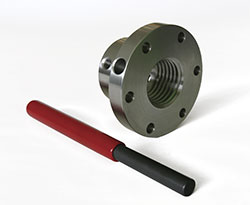 There are currently two styles of 3" faceplates.
The first is made from stainless steel (shown), which is for the woodturner who turns a lot of wet, caustic woods like cherry and oak. Making them from this rust proof material gives a lasting faceplate which does not need to be painted, as paint can sometimes stain or mark the wood.
Alternately a 3" Faceplate made from carbon steel is also available. These faceplates are powder painted for a hard wearing, resilient coating.
Available thread sizes are listed in Table 1 (below).
4 inch Faceplates
These faceplates are similar in construction to our 3" faceplates. They are manufactured from a solid block of carbon steel then powder painted to resist corrosion. Eight holes are available to accommodate screws for securing the piece of wood to the faceplate.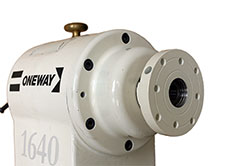 6 inch Faceplates
Our 6" Faceplates and larger, are constructed using cast iron. This enables us to re-enforce the outer diameter with a 1" wide x 1/4" thick rim. This rim is connected to the hub with four ribs tapered to the full length of the hub.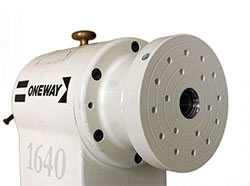 The result?
A superior faceplate that has maximum stiffness with minimum weight. Eighteen holes are then drilled to take up to #10 screws, resulting in what we feel is a breakthrough design for the best face plates available anywhere.
10 inch Faceplates
Our 10" No-Flex Faceplates now utilize a taper-lock adaptor to attach to your spindle (same adaptor as the Stronghold Chuck). Our large selection of adaptors means this faceplate can be used on pretty much any spindle.
A list of the adaptor thread sizes currently available can be found here.

Table 1

- thread sizes for the 3" Faceplates
Thread Size

Part No.
(Stainless)

Part No.
(Carbon)

---

M33 x 3.5

2391-355ss

2391-355cr

1 - 8 TPI LH/RH

2391-327ss

2391-327cr

1¼ - 8 TPI

2391-322ss

2391-322cr

¾ - 16 TPI

2391-336ss

2391-336cr

5/8 - Plain

2391-360ss

2391-360cr
TABLE 2 -

THREAD SIZES FOR 4" - 8" FACEPLATES
Thread Size

4"
(9 holes)

6"
(24 holes)

8"
(30 holes)

---

¾" - 16 tpi

0436

0636

-

1" - 8 tpi

0427

0627

0827

1 1/8" - 8 tpi LH

0425

-

-

1¼" - 8 tpi

0422

0622

0822

1½" - 8 tpi

0402

0602

0802

M33 x 3.5

0455

0655

0855
Notes:
Please note that these part numbers are very similar to Stronghold Adaptor Part Numbers, so when ordering, also include a short description for clarity.
If the thread size of your spindle thread is not listed, we can do special custom threading.
Custom Threading Charge

€19.95