Our Chucks: An Overview
There are currently three chucks in the ONEWAY Chuck Family: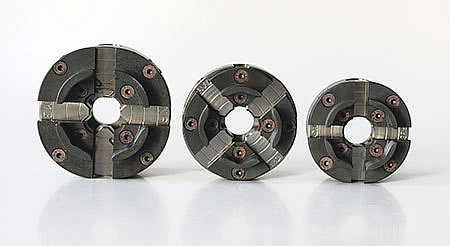 The STRONGHOLD & TALON chucks are a key operated 4 jaw self-centering scroll chuck, whereas the original ONEWAY Chuck, is lever operated.
Many accessories, such as optional jaw sets, woodworm screws and chuck spurs are available for all chucks, which allows the product to suit your specific needs. If your needs change or grow, these chucks can be adapted to change and grow as you do.
When deciding on which of our chucks best suites your needs, the following should be considered:
Clamping ease and power desired
Size of stock to be clamped (The Stronghold's capacities are slightly larger)
Spindle size (The ONEWAY and TALON will not fit spindles larger than 1-1/4" diameter)
Price
All our chucks have been designed by a machinist with engineering input from material, heat treating, and plating specialists in order to satisfy the woodturner's every need. Less time spent getting ready to turn and more time spent turning means better quality, and more finished projects. Large projects can be turned more safely, and turning can be done at the ends of long stock.
Note: When ordering, please be sure to specify the adaptor thread required for your spindle.
Features of our Chucks
Self Centering
All chucks are four jaw, self centering, scroll chucks. The wide range of a scroll chuck allows both expansion and compression chucking to fit a recess or tenon without the bother of taking exact measurements. Four jaws will hold both round and square stock.
Precision Machining & Quality Materials
Base jaws are made from carbon steel. Precision grinding on the sides provides for the exact and controlled clearances which are required for woodturning chucks. These base jaws are case hardened to make them longer lasting, stronger, and non-seizing in use.
The scroll is precision machined and case hardened with the bore honed to exact tolerance after heat treating. This insures that no action adjustment is required for the life of the chuck. Manganese phosphate plating acts as an anti-seize compound. Less lubrication is consequently required for smooth-running action over the life of the chuck.
The body is precision machined from a solid block of steel. Electroless nickel plating provides a hard wearing surface for base jaws and scroll while giving the added bonus of providing excellent corrosion resistance.
Patented Safety Feature
Our Chucks were designed with safety in mind. A patented over-extension preventer slot and pin system makes chucks safe to use for all levels of turners. This system eliminates the accidental over-extension of jaws which could result in a jaw flying out at lathe start-up and injuring the operator. There are two settings: the first allows for maximum jaw travel, the second keeps jaws from extending outside the chuck body, providing safe turning.
Unique Easy Entry Woodworm Screw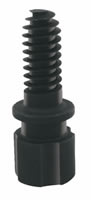 A 1½" Woodworm Screw is supplied with the chuck. This screw is machined with both a locating groove and four slots along the length of the head so it can be held and locked in place. This heavy duty screw is equipped with deeply cut threads which are tapered at the point for easy entry and minimal tearout. ONEWAY's woodworm screws are unsurpassed for all types of screw chucking operations. ONEWAY also offers these in 2" dia.
1½" RH Jumbo Screw Part No. 2041

€21.95

1½" LH Jumbo Screw Part No. 2039

€21.95

2" RH Jumbo Screw Part No. 2042

€25.75

2" LH Jumbo Screw Part No. 2040

€25.75
Taper-Lock Adaptor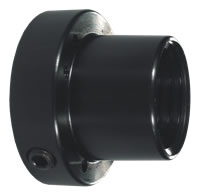 A taper-lock mounting adaptor is supplied with every chuck. It is secured with screws and is fully machined in one set up. With this unique taper-lock design the chuck is guaranteed to run true to the lathe spindle. The possibility of the adaptor loosening or separating from the chuck body in normal use or when reversing the lathe has been successfully eliminated.
For a list of our standard Taper-Lock Adaptors, click here.
Extra Adaptor

€25.95
Adaptors can be or are supplied standard with RH and LH cross thread. If you have a lathe with different size inboard and outboard threads it may be possible for a sleeve to be permanently mounted on your outboard. Then switching your chuck from inboard to outboard will only take seconds.
Adaptors can be made to fit almost any spindle size. If you ever purchase a new lathe, or want to use your chuck on a different lathe, it is as simple as purchasing a new adaptor.
Profile Top Jaws
ONEWAY chucks are outfitted with our revolutionary top jaw design. This design guarantees that superior gripping at all diameters within the chuck capacity is better than any competitive system. The aggressive teeth make holding side or end grain more secure than ever, yet fiber damage is minimized as pressure is spread over a larger area.
To view our extensive range of top jaws offered for our chucks, click here.