Accessory Jaws
There are several optional jaw sets available for the STRONGHOLD, ONEWAY and TALON chucks.
All of our jaws were designed to allow the wood turner to take on projects which may require a smaller or larger capacity than what the standard #2 jaws can handle. For turners who work either small or large, or who want to be able to finish the back side of their work, the following jaw sets are assets to consider:
NEW ALUMINUM JAWS

No. 5 Aluminum Jaws for the Stronghold Chuck

No. 6 Aluminum Jaws for the Stronghold Chuck

New deep jaws to maximize gripping power!
Due to popular request, all our profiled jaws are now available in a smooth (or dovetail) configuration.
Chuck Spurs
Another accessory for our chucks is the Chuck Spur. This spur is directly mounted into the chuck, therefore it is not necessary to remove the Chuck from your lathe to do spindle work. Just open the jaws, insert the Chuck Spur and you're ready to turn spindles within seconds!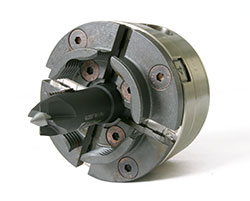 Click here for more information.