Screw Chuck
This nifty little tool is indespensible when turning small items like drawer knobs or chess pieces.

The Oneway Screw Chuck was designed in response to a requirement for making small parts. It is especially well suited for projects where holding possibilities are limited.
Small parts can be drilled and held with the same screw size that will be used for installing the piece when it is finished!
It's design allows the use of any length of slotted, phillips, or square head screw from #8 to #10.
Note: Six bits are supplied with the screw chuck. However, these bits vary from time to time and may not be exactly as shown.

How is it used?
Remove the brass head and insert a hex bit into the body of the screw chuck (head part forward). The hex bit should seat firmly into the screw head.
Next insert the wood screw (with matching head to the hex bit) into the brass head. Holding the screw in the head, screw the brass head back on to the screw chuck.
Using the allen key inserted into the bottom of the screw chuck, tighten the set screw to push the hex bit forward and lock the wood screw from the rear against the brass head.
You are now ready to mount the screw chuck into the lathe and screw the piece onto the screw chuck.
3" Aluminum Faceplate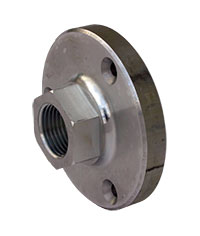 This is only included with the No. 2 MT Screw Chuck. It is very handy when turning small bowls or platters. Simply mount the faceplate onto your blank using #8 screws (or lower). Then unscrew the brass head and screw on the aluminum faceplate (with blank mounted).
Now you ready to start turning!