Where are they made?
All Oneway Chucks and accessory jaws are manufactured in Stratford, Canada.
We take great pride in the quality of our products and believe in offering a superior product at a reasonable price.
Chuck Design
ONEWAY chucks have been designed by a machinist with engineering input from material, heat treating, and plating specialists in order to satisfy the wood turner's every need.
Why buy a chuck?
Less time spent getting ready to turn and more time spent turning means better quality, and more finished projects.
Large projects can be turned more safely, and turning can be done at the ends of long stock.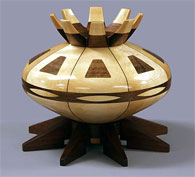 Maya1
by John McAtee
www.johnsturn.com