#3 Jaws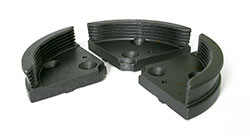 These jaws have the mass and size necessary for large bowls and vases. The profiled jaws provide maximum gripping power with minimal damage to the piece.
The Patented Profile Jaws are pictured here. Click here to view what the Smooth (Dovetail) jaws look like.
Smooth Jaws
These jaws have the same capacities as the profiled #3 Jaws (and are offered at the same price). The inside and outside surface of the jaws is smooth. They are designed (and recommended) for light cutting applications. These jaws will not mark your work as much as the profiled #3 Jaws, but will NOT grip with the same power either.
Smooth or Profiled?
There are advantages to both types of jaws, however, we recommend our patented profiled jaws as explained below:
At design diameter (Fig. 1) the smooth design and profile jaws grip equally well. However, at this specific diameter the smooth jaws have an advantage due to slightly less wood damage.
As soon as you grip something which is not at the design diameter (Fig. 2), the profile jaws grip much better as they are holding on with more surface area. Smooth jaws contact only a small area which diminishes as the diameter increases, and conversely increases wood damage.
Profile jaws also give the turner the flexibility of gripping square stock (Fig. 3), which we do not recommend doing if using smooth jaws.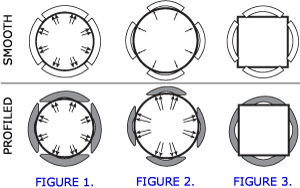 Jaw Capacities
All the measurements below are in INCHES and are accurate to within 1/8".
External
(compression)

Internal
(expansion)

Oneway

Min

3-3/8"

3-7/8"

Max

4 ¾"

5-3/8"

Talon

Min

2-7/8"

3-3/8"

Max

4-5/8"

4-7/8"

Stronghold

Min

3-7/8"

4 ½"

Max

5 ¼"

6"
Important
All Oneway Chuck accessory jaws are compatible with the Talon Chuck. However, if you want to use your Oneway Chuck #3 Jaws on your Talon Chuck, please be aware there is no overlap with the Talon #2 Jaw capacities.
Pricing