Step Jaws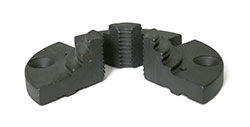 Step Jaws are specifically designed for turning small items. The steps are used to expand into a recess enabling you to turn the outside of the piece with added confidence. The outside surface of the jaws is serrated to grip the work piece with minimal damage.
These jaws are called the #1 Jaws for the Talon and Oneway Chucks, but can also be referred to as Step Jaws.
Important
Jaw Capacities
All the measurements below are in INCHES and are accurate to within 1/8".
External
(compression)

Internal
(expansion)

Oneway

Min

3/8"

1"

Max

1-7/8"

2 ½"

Talon

Min

3/8"

7/8"

Max

1 ¾"

2-3/8"

Stronghold

Min

n/a

n/a

Max

n/a

n/a