Collet Jaws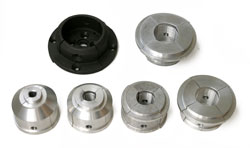 Collet jaws are designed to fit specific diameters. Our Collet jaws are designed for those turners making bottle stoppers and other components made from turned-to-size round stock, such as dowels.
These Collet jaws are safe, cause little or no wood damage and hold better than most other jaws.
Constructed from a sold block of aluminum, the pads will not rust or corrode. The Master Jaws are of steel construction and coated with manganese phosphate for protection.
IMPORTANT NOTE:
These Collet Jaws will only fit the Oneway STRONGHOLD Chuck.
Available Sizes
Collet Pads come in five different sizes - ½", ¾", 1", 1¼", & 1½".
Weight
The complete set (master jaws + 5 sets of pads) weighs approximately 4 lbs.
Jaw Capacities
The capacities of each of the pads in the master jaws are given below:
Pricing
The Collet jaws and pads can be purchased individually or as a set.
---

Part No.

Price (€)

---

Complete Collet Set

2992

€182,56

Master Collet Jaws

2705

€61,50

1/2" Pads

2706

€31,75

3/4" Pads

2710

€31,75

1" Pads

2711

€31,75

1-1/4" Pads

2712

€31,75

1-1/2" Pads

2713

€31,75

---