Online Reviews & Articles
Independant reviews of our products!
This page contains a list any reviews (that we have been made aware of) converning any of our products. As we become aware of new reviews they will be added to this page.
If you know of an online review of one of our products that is not on this page, please email us at review@oneway.ca and provide us with the URL (ie. http://www.....) for the web page, and we will gladly add it to our site.
We hope you find these reviews useful.
LATEST REVIEWs
The Thread-Lok Ferrules are
The Termite review is performed by an independant woodworker by the name of Tom Hintz (www.newwoodworker.com). The Termite is used to create hollow forms where turning in end grain can cause tear-out and other problems. It's a great tool for making goblets and other small hollow forms. To read the full review, click here.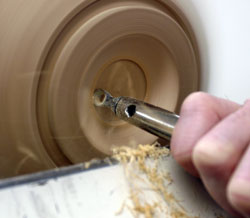 We also sent Tom a Multi-Gauge for review - as he does a lot of Woodworking as well as Woodturning. He discovered that "the Oneway Multi-Gauge is a uniquely useful tool that is both simple to use and extremely accurate". Read the entire review here.